SWOT Analysis
TOWS
---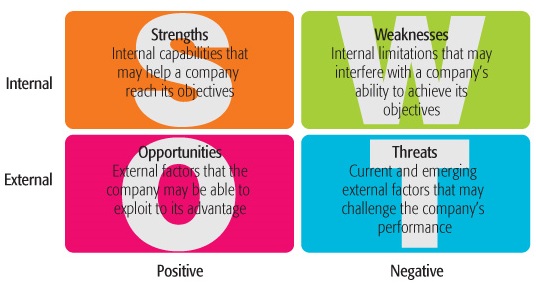 SWOT Analysis (SWOT = TOWS) = situation analysis

Purpose of SWOT = Why we do SWOT = to develop appropriate strategies
SWOT Analysis = Assessing organizational strengths and weaknesses (internal) and environmental opportunities and threats (external) in order to develop appropriate strategies.
SWOT is a strategic planning tool used to evaluate the Strengths, Weaknesses, Opportunities, and Threats involved in a project
situation analysis = taking stock of where the firm or product has been recently, where it is now, and where it is headed in terms of the organization's plans and the external factors and trends affecting it.

industry trends, competitors, the firm itself, present & prospective customers
sharing this information across departments
using this information to create "customer value"
purpose is to develop appropriate strategies and a plan of action

Analysis

Analysis at the level of:

the entire organization
the business unit
the product line
the specific product

Detailed analysis

Internal (marketing mix) factors = Controllable factors

Examples: site, image, product/service mix, people and expertise, financial position, contracts, intellectual property, methods, systems, etc.
the firm itself = internal company information

4Ps = Controllable factors

Strengths

S = attempt to capitalize on organizational strengths (brand name recognition, surplus cash, dedicated workforce, managerial talent, technical expertise, weak competition, etc.)

Weaknesses

W = attempt to overcome organizational weaknesses (lack of experience or knowledge about ecommerce, etc.)

External company information = environmental factors = Uncontrollable factors

Examples: legislation, demographics, competition, technology, changes in social patterns, fashion, the economy, government foreign policy, climate, disease patterns, population, lifestyle, etc.

PEST analysis = SLEPT = PESTEL/PESTLE = SPELIT = STEEPLE = STEEPLED
Political, Economic, Social, Technological, Legal, Intercultural, Ethics, Demographic

Marketing Environment is determined by Environmental Scanning

Firms cannot control these five factors. (Uncontrollable factors

Marketing Environment is determined by Environmental Scanning

Firms cannot control these external factors. (Uncontrollable factors)
industry trends
competitors
present & prospective customers

Opportunities

O = attempt to take advantage of environmental opportunities
Customers' needs - Opportunities
Firms can try to take advantage of Opportunities.
e.g. Customers' needs

Threats

T = attempt to cope with environmental threats (e.g. changing consumer tastes, hostile takeover, new products, new competitors, etc.)
Competitors' capabilities - Threats
Firms can try to minimize the negative impact of Threats.
e.g. Competitors' capabilities

Identify the critical factors
Translate the SWOT analysis results into specific actions (

strategies

) to help the firm grow and succeed. (see Strategies)

build on strengths
correct weaknesses
exploit opportunities
avoid threats
Strategies = the methods (actions) that a company uses to meet its stated goals - See also Goals & Objectives

the methods (actions) that a company uses to meet its stated goals
Setting strategic goals = long-term goals (derived directly from the mission statement)
Analyzing the organization and its environment

Environmental analysis = scanning the environment for Threats and Opportunities = external factors
Organizational analysis = understanding the company's Strengths and Weaknesses = internal factors

Setting strategic goals = long-term goals (derived directly from the mission statement)
Analyzing the organization and its environment

Environmental analysis = scanning the environment for Threats and Opportunities = external factors
Organizational analysis = understanding the company's Strengths and Weaknesses = internal factors
SWOT Analysis = Assessing organizational strengths and weaknesses (internal) and environmental opportunities and threats (external)

Matching the organization and its environment = the final step in strategy formulation
Levels of Strategies (hierarchy)
Business Portfolio= the collection of businesses and products that make up the company

identify the businesses that the company will be in and how these businesses will relate to each other
top management directs overall strategy for the entire organization = overall strategy formulation
manage a portfolio of businesses (see business units, below) = portfolio analysis
Based on the Goals & Objectives
The best business portfolio is the one that best fits the company's strengths and weaknesses to opportunities in the environment.

Focus on products and businesses that fit closely with the firm's core philosophy and competencies.
Fits the company's strengths and weaknesses to opportunities in the environment

Analyze and adjust the current business portfolio and develop growth and downsizing strategies for adjusting the future portfolio.

Current portfolio - Decide which businesses and products should receive more or fewer resources (investment)
Future portfolio - Strategies for growth or downsizing

References

Griffin 8ce, p.199, Ch.06
Armstrong 5ce, p.50, Ch.02
Keegan 8e, --

Business Portfolio Analysis (of business units, or product lines, or individual products, or individual brands)
growth-share matrix - Boston Consulting Group (= BCG)


BCG Matrix

Relative Market Share
(cash generation)

Market growth rate
(cash usage)

Star
high share, high growth

Question mark = problem child
low share, high growth
requires lots of cash just to maintain market share

Cash cow
dominant share, slow growth

Dog
low share, low growth

See also: PowerPoint presentation Chapter 02 Figure 2.2 for 401-201-DW

SBU = strategic business unit

a company division, a group of similar products or customers, or sometimes a single product or brand
SBU is a unit of the company that has its own mission and objectives and that can be planned independently from other SBUs.

Market growth rate (y-axis)

Attractiveness of the SBU's market or industry

Relative market share (x-axis)

Strength of the SBU's position in that market or industry
Relative Market Share = (Sales by that SBU) / (Sales by industry leader)

= (Sales by SBUs) / (Sales by the entire industry) (Is this a valid measure????)

BCG Matrix

Stars - need heavy investment to finance their rapid growth - will eventually turn into cash cows
Cash cows- need less investment to hold their market share - produce cash to support other SBUs
Question marks- need a lot of cash to hold their market share - build into stars OR phase out
Dogs

---

Alternative strategies - Alternative Corporate-level

strategies

(for each BU mapped on this matrix)

Build = invest more to build the SBU's share =build the SBU's share by investing more

Growth (= focus on internal activities that will result in growth)
Product/Market Expansion Grid = A portfolio planning tool for identifying company growth opportunities

market penetration = focusing efforts on increasing sales of that product in order to capture market share

Concentration strategy = focusing on one product or product line
market penetration = boosting sales of present products

product development = offering modified or new products to current market segments

product development = developing improved products for current markets

market development = identifying and developing new market segments for current company products

geographic expansion = expanding to new geographic areas
International = Global - (see page 60)

Pro - counterattack global competitors, foreign profit opportunities, shrinking domestic markets, need larger customer base to achieve economies of scale, reduce dependence on any one market, customers require international servicing, need additional markets for overcapacity
Con - risks, able to operate globally, able to understand foreign preferences and buying behaviour, able to offer competitive products, able to adapt to cultures, have the necessary international experience, regulations and political environments
Considerations - company's marketing objective and policies, how many countries, types of countries

diversification = starting up or acquiring businesses outside the company's current products and markets
Focus - Companies should not be too diversified. They should get back to the basics of serving one or a few industries that they know best.

Diversification = expanding into related or unrelated products or market segments

Related diversification = adding new, but related products or services to an existing business
Conglomerate diversification = diversifying into products or markets that are not related to the firm's present businesse

Integration (= focus on external activities that will result in growth)

horizontal integration

acquiring control of competitors in the same or similar markets with the same or similar products

vertical integration

owning or controlling the inputs to the firm's processes and/or
owning or controlling the channels through which the products or services are distributed.

Hold = invest just enough to keep the SBU at the current level

hold the SBU's share at about its current level by investing just enough

Harvest = milking the short-term cash flow
Divest = sell the SBU or phase out the SBU

divest = phase out the SBU or sell the SBU for cash
Downsizing = reducing the business portfolio by eliminating products or businesses that are not profitable or that no longer fit the company's overall strategy

Divest = prune = In finance and economics, divestment or divestiture is the reduction of some kind of asset, for either financial or social goals. A divestment is the opposite of an investment.
Focus on promising growth opportunities, not wasting resources trying to salvage fading SBUs.

Investment reduction

Retrenchment = reduction of activity or operations
Divestment = selling or liquidating one or more of the firm's businesses

References
Market-Product analysis matrix

Market-Product Analysis

Products

Current

New

Markets

Current

Market Penetration
sell more

Product Development
new product
(danger of product cannibalism)

New

Market Development
sell elsewhere

Diversification
new business
(related or unrelated diversification)

Market-product grid = framework to relate the segment of a market to products offered or potential marketing actions (4Ps) by the firm.

y-axis = horizontal rows = markets or market segments
x-axis = vertical columns = products or product lines or marketing actions (4Ps)
size estimate for each cell in the grid (size of market, size of market-product combination) = each cell in the grid can depict the estimated market size of a given product sold to a specific market segment.

Alternative Corporate-level

strategies

(for the SBUs)

Concentration strategy = focusing on one product or product line
Growth opportunities (= focus on internal activities that will result in growth)

Penetration = marketing penetration = market share expansion = boosting sales of present products

Examples: increased personal selling, a more aggressive sales approach, sales promotion and publicity activities, increased advertising, etc. Lowering prices is dangerous and could trigger a price war. Predataor pricing is illegal. Be careful not to gain market share beyond 100% of your capacity (to provide product).

Product development = product expansion = developing improved products for current markets

Modified products - materials, features, size, packaging, etc.
Depth vs. Breadth of the product mix.

Market development = geographic expansion = market segment expansion = expanding to new geographic areas

New distribution channels, New ordering modes (in-store, phone, mail-in, online, etc.), New delivery modes (pick-up, delivery, post-office, courier, etc.).

Diversification = expanding into related or unrelated products or market segments

Related diversification = adding new, but related products or services to an existing business
Conglomerate diversification = diversifying into products or markets that are not related to the firm's present businesses
Acquisition strategy = buying other businesses in the same field and incorporating them into your firm.

Integration (= focus on external activities that will result in growth)

horizontal integration

acquiring control of competitors in the same or similar markets with the same or similar products

vertical integration

owning or controlling the inputs to the firm's processes and/or
owning or controlling the channels through which the products or services are distributed.

Investment reduction

Retrenchment = reduction of activity or operations
Divestment = selling or liquidating one or more of the firm's businesses
In finance and economics, divestment or divestiture is the reduction of some kind of asset, for either financial or social goals. A divestment is the opposite of an investment.
SBU strategies = Competitive strategies = identify the ways a business will compete in its chosen line of products or services = a plan to establish a profitable and sustainable competitive position against the forces that determine industry competition.
business units = operating groups = strategic business segments = product-marketing units (PMUs) = strategic business unit (SBU)
business unit = an organization that markets a set of related products to a clearly defined group of customers.
Business unit managers set the direction for their products and markets = specific strategy formulation
Competitive

strategies

(by Michael Porter):

cost leadership = becoming the low cost leader in an industry = Price
differentiation = seeking to be unique in its industry along some dimension that is valued by buyers (e.g. durability, safety, user-friendly-ness, quality, etc.) = Product
focus = selecting a market segment and serving the customers in that market niche better than competitors = market nich
Functional Strategies = identify the basic courses of action that each department in the firm will pursue so that it contributes to the attainment of the business's overall goals

Departments = specialized functions = (e.g. information systems, finance, R&D, marketing, manufacturing, HR)
Groups of specialists actually create value for the organization.
strategy implementation = very specific strategy formulation - hierarchy of strategic directions = they make things happen
Cross-functional teams = a small number of people from different departments (employees, suppliers, customers) in an organization who are mutually accountable to a common set of performance goals.
Levels of Plans (hierarchy) - Managerial responsibilities are defined at each level - See also Goals & Objectives

Strategic plans

set by the board of directors and top management
long-range
decisions about resource allocations, company priorities, steps needed to meet strategic goals

Tactical plans

set by upper and middle management
shorter-range
decisions about implementing specific aspects of the company's strategic plans

Operational plans

set by middle and lower-level managers
short-range
decisions about targets for daily, weekly, or monthly performance

Contingency plans

developing alternative plans in case things go awry = dealing with the unknown and unforeseen = hedging against changes that might occur = planning for change

Crisis management plans

crisis = unexpected emergency requiring immediate organizational response
crisis management = an organization's methods for dealing with emergencies

who will be in charge, how the organization will respond, etc
Please use both of these models together.
Use this first model to list all the SWOT items.
| | | |
| --- | --- | --- |
| SWOT - Table 01 | Positive | Negative |
| Internal | Strengths | Weaknesses |
| External | Opportunities | Threats |
Use the following model to list the

Strategies

for each combination of SW and OT. (see Strategies)
Note that the colours match in both these models.
The part in yellow is the same as the part in yellow of the model shown above.
Many of the possible strategies may be found elsewhere on this page.
SWOT - Table 02


Strategies

Internal

Strengths

Weaknesses

External

Opportunities

SO


Strategies

WO


Strategies

Threats

ST


Strategies

WT


Strategies
Use a spreadsheet (MS-Excel or MS-Word) to create a list in each cell of this table

It isn't complicated to use Word to create the tables.

Word 2010 > Insert (menu/ribbon) > Insert > Table

Please use

both

of these models together.